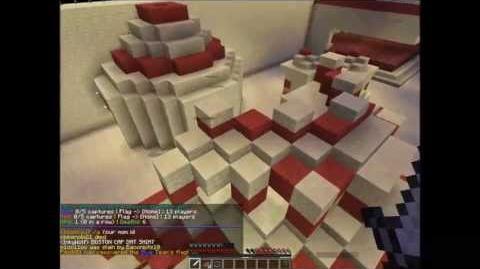 Teams are groups of players that come together to play gamemodes. Some challenge other teams, whilst some  just play to have fun.
Starting a team
Edit
To start a team, simply post a team application on the forums. In your post, you must say important information about your team, as well as a template for the application.
CTF teams must be in the "Pending" stage for more than 1 month before becoming eligible for "Official" status.
CTF matches- Players play a certain number of matches, to see who gets the best of the total amount. This is usually 3, but varies. They maps are chosen by team leaders, and restrictions are usually no engineers or dwarfs. Message Coasted or Saixos and ask if they can referee the match. All matches take place on t.mcctf.com, which is only open when team matches are taking place.
ZC matches- Players play a certain amount of matches to see who gets the best of the total amount. There is no private server or referee. You have to organise it all by yourself. Rules are decided by team leaders.
Headshot, smash and sabotage teams don't have matches, headshot is a possiblity in the future.
Team List
Edit
CTF team list

| Team Name | Server | Leader |
| --- | --- | --- |
| The Templars | a01.us.mcctf.com | CubbyScout |
| The Beta | b01.us.mcctf.com | DomoDancer |
| CTF Samurais | b01.us.mcctf.com | Team has Disbanded |
| The Grassfolks | b01.us.mcctf.com | Team has Disbanded |
| The Red Flaggers | b01.us.mcctf.com | DDRMANIAC007 |
| The Blobz | b02.us.mcctf.com | oat82997 |
| The Blue Flaggers | b02.us.mcctf.com | oStaiko |
| VenomXI | b02.us.mcctf.com | Blake_Callahan |
| The Mushies | b03.us.mcctf.com | TheShinyCrobat |
| The Bears | b04.us.mcctf.com | frostedsquids |
| TEAMTEAMTEAM | b04.us.mcctf.com | aRandomBob157 |
| Dream Team | b09.us.mcctf.com | Team has Disbanded |
| Vengence | c01.us.mcctf.com | Sweet797 |
| Delta Force | c04.us.mcctf.com | duskippy |
| CTF Savages | No server | bennyb123 |
Zone Control Team list

| Team name | Server | Leader |
| --- | --- | --- |
| The Pink Zoners | a2.us.mc-zones.com | 96Tenshi |
| 008's | a3.us.mc-zones.com | Brickerbeast |
| The Red Zoners | a4.us.mc-zones.com | jono_9 |
| The Blood Brothers | a10.us.mc-zones.com | dplatz7400 |
| The Blue Zoners | b2.us.mc-zones.com | oStaiko |
| The Mighty Unicorns | b2.us-zones.com | Canadian_Unicorn |
Headshot Team list

| Team Name | Server | Leader |
| --- | --- | --- |
| Hotshot | No Server | INSTINCT |
| Fusion | a3.us.mcheadshot.com | camcole99 |
| The Guerillas | a1.us.mcheadshot.com | Ncisdiaboloist |
Smash Teams

| Team Name | Leader |
| --- | --- |
| The Smash Bros | Maxx2754 |
| Frostbite | DunnyDude29 |
| The Legion | MinerMaster020 |
Sabotage Team

| Team Name | Server | Leader |
| --- | --- | --- |
| The Saboteurs | a10.mc-sabotage.com | Paramorfan124 |